Save paper, benefit from smart added values and save time at the checkout. This and many other advantages are promised by anybill's vision: to establish digital cash register receipts in retail and thus create a contemporary digital touchpoint between retailer and consumer. anybill is getting closer and closer to this goal. The POS provider infrastructure is being steadily expanded and integrations in POS systems are progressing smoothly. The infrastructure for digital POS receipts in the DACH region is growing and nothing stands in the way of a sustainable alternative to the paper chaos.
However, anybill is not only pursuing the goal of equipping retailers and restaurateurs as well as POS providers and payment service providers with the modern technology for the digital receipt, but consumers should also benefit from smart added values of the digital point of contact in stationary retail.
For anybill, customer and user feedback is central and is regularly incorporated into product planning. anybill pursues the vision of digital shopping assistance as well as collection technology for digital receipts and smart added values for accounting, finance and shopping experiences. With this, anybill wants to create a trustworthy and secure place for the "Finance & Banking" world.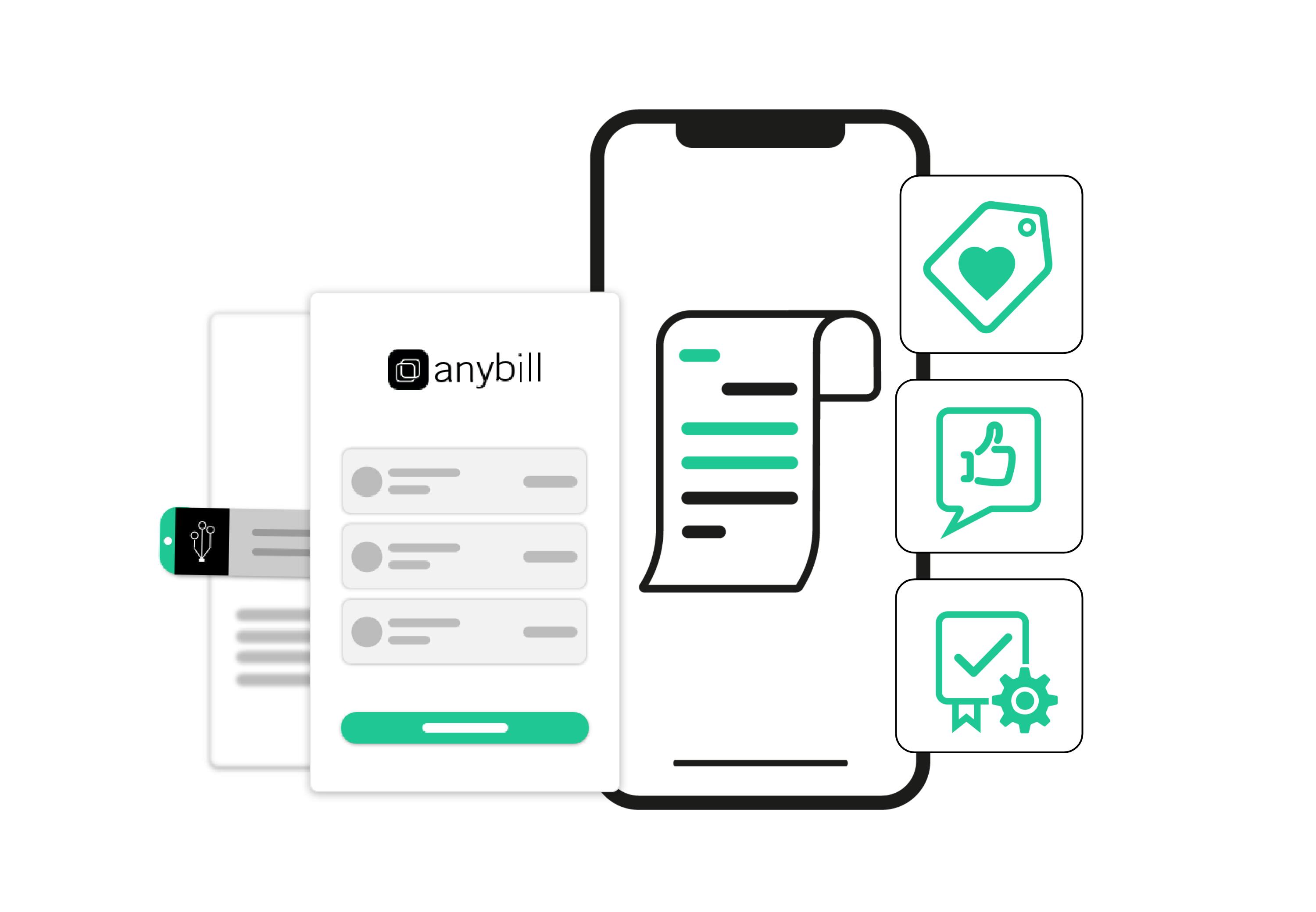 Digital receipts not only for the anybill App
anybill is not limited to the specially programmed anybill app, but can also be transferred to existing apps. This is because anybill also offers the technology of digital receipt receipt including smart additional functions as a Software Development Kid (SDK). This SDK can be easily integrated into existing retailer apps or banking apps. In addition, anybill offers the possibility to provide all functions of the anybill app modularly for an app in the form of a white label app. In both the SDK and white label variants, the individual functions of the anybill technology can be implemented modularly and freely according to individual requirements.
For retailers with an existing retailer app, this means that they can use all of anybill's functions in their own retailer app via a provided SDK. In order for consumers to be able to receive digital receipts from retailers in the Retailer App, they must agree to the digital receipt reception via the Retailer App and the anybill integration once in the app. Customers can then receive retailer-generated receipts digitally directly into the App.
In addition to the integration of digital receipt receipt, anybill also offers integration with corresponding corporate design. The additional feature of digital receipt receipt thus becomes part of the Retailer App without changing the user interface for the user. This gives retailers the opportunity to offer a smart additional feature in their own app and can thus establish an environmentally friendly solution for receipt issuance.
In addition to implementation in existing merchant apps, the same smooth integration is also possible for banking apps.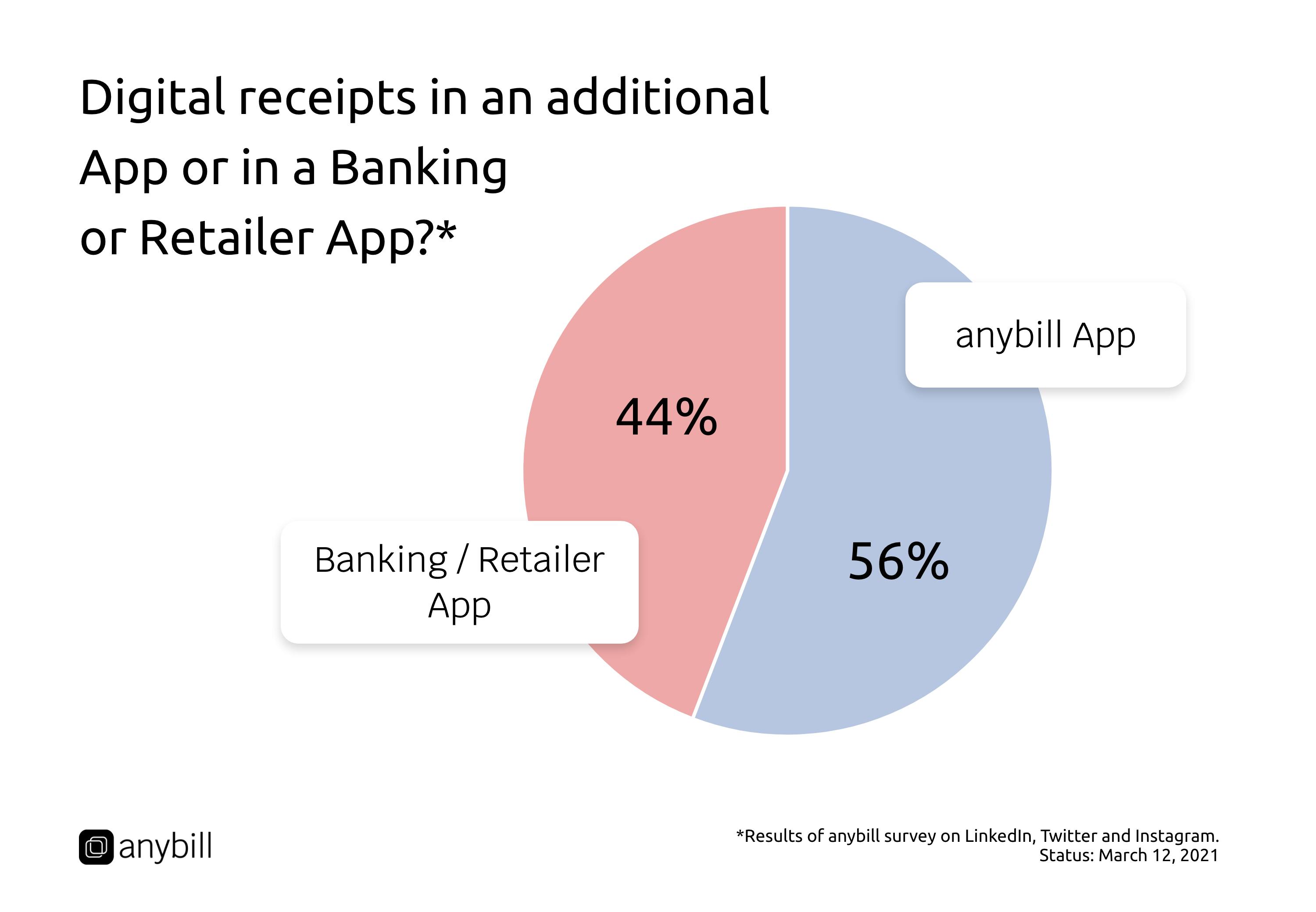 The anybill editorial team asked whether consumers prefer to use digital receipts via an additional external app, such as anybill's multipartner app, or via an already familiar retailer-owned or banking app. anybill asked the same question as for the desired registration option or also for the preferred receipt option on social media (LinkedIn, Instagram and Twitter): Digital receipts in an additional App or in a Banking/Retailer App?
The results show almost a 50/50 split, yet a trend toward anybill's multi-partner app: 56% indicated they would like to receive digital receipts through the anybill app. 44% opted for the familiar banking/retailer app. anybill assumes that this result is due to the different advantages and also occasional disadvantages of both app options.
Advantages and disadvantages of different App applications
Integration into the banking app or retailer app has the key advantage that consumers are already familiar with their banking app and the associated bank and also attribute high trust to it. The same argument applies to the retailer app: people who always shop in the same supermarket build up a strong bond with the retailer and therefore also trust the app product. It only becomes difficult if the consumer in question also wants to receive digital receipts at other retailers. This is because consumers cannot use the retailer-dependent app at other retailers. In contrast, the banking app alternative is of course merchant-independent, but still more limited if, for example, consumers want to view multiple bank accounts from different banks simultaneously in one app.
The anybill App, on the other hand, is independent of both merchants and banks. This means that in the anybill app, all digital receipts from different merchants can be collected - hence "multi-partner app" - and at the same time, several bank accounts from different banks can also be linked in one financial overview. Another plus point for the anybill app is also the possibility of using all additional features that are also available for all retailers and banking apps, but first have to be added on a modular basis by the respective retailers and credit institutions.
The fact is: Regardless of whether anybill, retailer or banking app - consumers in the retail sector have various options for how they receive digital receipts with anybill and from which smart added values they would like to benefit. anybill is convinced of the flexible app use and relies on the cooperation with the decisive players in the retail and banking world.