Regensburg, Germany. anybill promotes user acceptance of digital receipts with flexible issuing options, user-friendly registration processes and the guarantee of the highest security standards for sensitive purchasing data.
Just quickly at the checkout, the purchase packed and already on the way home, because you don't need the receipt anyway. And then suddenly a question from the cashier that calls one's own plan into question: "Would you like a digital receipt?"
Overwhelmed, the consumer doesn't know how to categorize the situation. Numerous thoughts flash through his mind: "A digital receipt? Oh, I just need some app again. They just want my data." So the consumer's answer quickly becomes, "No, thanks." Meanwhile, the consumer turns his back on the cashier with his purchase and keeps his sights on the exit of the store.
At the same time, the consumer does not notice the cashier's routine steps: despite the refusal of the receipt and in accordance with the receipt issuance obligation, the cashier issues a receipt that is on average 30cm long and made of environmentally harmful thermal paper and then throws it crumpled up into the residual waste at best.
Too bad, isn't it? Neither the environment, consumers, nor retailers benefit from this decision against the digital alternative to the conventional thermal paper receipt. And this is only due to the lack of user acceptance in the consumer example. A dramatized negative example that could well be reality at the point of sale of the future.
3 options for increasing user acceptance of digital receipts
To avoid such a scenario in the future, anybill offers individual and flexible solutions for retailers, credit institutions and consumers to ease the hurdle of opting for the digital receipt. At anybill, the three different ways of issuing digital receipts already offer a high degree of flexibility for consumers and merchants: here, 73% of a anybill survey prefer the one-touch solution. This option involves the linking of an independent means of payment, which is connected to anybill's app technology. With the next card payment, the user receives the digital receipt directly in the anybill or banking app according to the "One-Touch" principle.
However, the realization of this one-touch solution already requires a high level of user acceptance and also a strong trust in anybill. anybill offers three options to promote this trust and thus also user acceptance.
1. trust in favorite merchant and bank
To ensure that consumers do not need another app in addition to their already preferred retailer app, anybill offers not only the multi-partner app, i.e. the anybill app, but also so-called SDK and white label solutions for already existing retailer and banking apps. These solutions from anybill can be understood as software building blocks from which retailers and credit institutions can individually select modular additional features for their own app. In doing so, they are free to decide which added values they would like to benefit from thanks to the digital receipt.
Consumers thus use the existing retailer or banking app, which has the additional functions of anybill with new updates. Thereupon, nothing stands in the way of the digital receipt directly at the checkout.
2. app-independent smartphone photo function.
If the consumer does not use a Retailer app or if the consumer's own online banking app does not have the additional function of digital receipt holding from anybill and the consumer is not yet familiar with the anybill app, then a QR code can be displayed to the consumer directly on the customer display of the cash register. After a successful scan, the consumer is redirected to a download area. There, they have the option of downloading the digital receipt as a PDF or deciding to download the anybill app after all. 16% indicated in an anybill survey that they would prefer the customer display option. We believe this result can be attributed primarily to the anonymity and flexibility of downloading.
3. digital receipts without registration
As a third option for increased user adoption of digital receipts, anybill offers the option for new users of the anybill app to receive three digital receipts without registration. In doing so, users benefit from all the smart added values that retailers offer in connection with digital receipts thanks to anybill. After three digital receipts have been issued, users can register with anybill to continue to benefit from the smart added values and the digital receipts.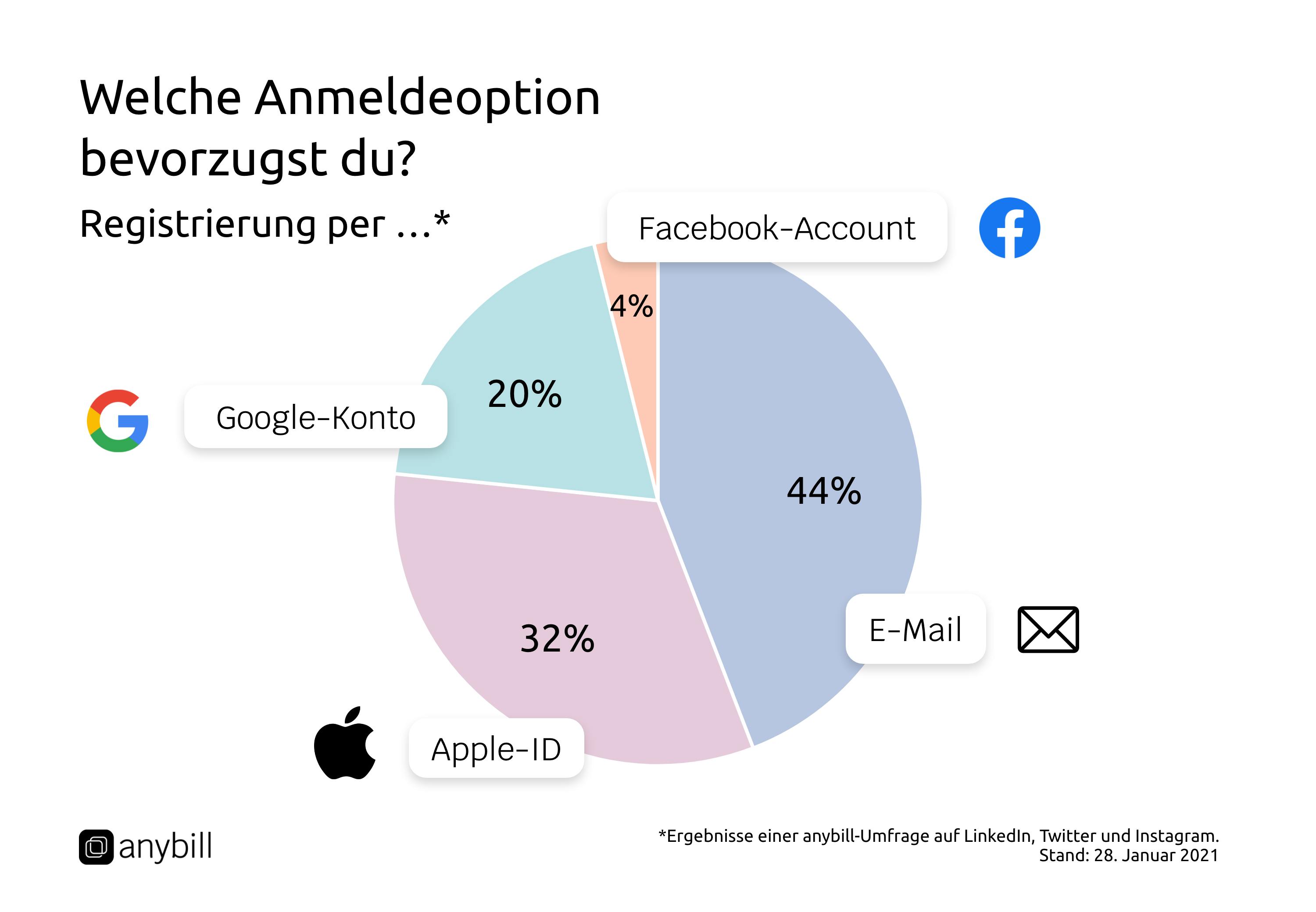 44% would like to register by e-mail
anybill would like to make the registration or login process at anybill as user-friendly as possible in order to ensure high user acceptance in this regard as well. Therefore, anybill has launched a survey on social networks (LinkedIn, Twitter and Instagram) on the topic "Which registration option do you prefer? Registration by ...", in which 77 interested parties participated.
The most confidence was expressed towards email, with 44% of participants preferring the registration process via email, strongly rejecting registration via large tech companies such as Apple, Google or Facebook. This relative majority suggests that consumers are more likely to want to register for technology that manages sensitive banking and purchasing data in a way that is independent of tech giants.
Still, 32% chose to register via Apple ID and 20% chose to register via a Google account. The clear taillight, at just 4%, is registration using a Facebook account. The lack of demand for registration with Facebook in particular confirms anybill's assumption that consumers fear third-party use and disclosure of their personal and sensitive shopping and banking data.
Uncompromising data protection is anybill philosophy
The lack of trust in social media giant Facebook and the associated worries of sensitive and personal data being passed on is also confirmed by the study conducted by consumer informatics experts, who already examined digital receipts as a possible value-added platform for stationary retail in 2018.
Here, the greatest concerns were expressed with regard to data protection and a lack of transparency. This is especially true if more personal data is stored, evaluated and passed on to third parties through the digital receipt (Cf. Bossauer et al. 2018).
anybill resolutely positions itself against such data protection doubts by ensuring the highest security and data protection standards that are DSGVO-compliant at all times. In addition, anybill does not disclose personal data to third parties at any time and ensures the highest security protection through professional and complex authentication procedures.
Flexibility and security ensure high user acceptance
From the combination of flexible issuing options for digital receipts and the guarantee of the highest standards for securing sensitive data, anybill expects a high level of acceptance of digital receipts, which consumers will be happy to opt for directly at the checkout in the future, thus helping to shape a more environmentally friendly retail sector.
Source:
Bossauer, P. et al. (2018): Added values based on digital till receipts: a consumer informatics study, in: A. Gadatsch et a. (eds.): Nachhaltiges Wirtschaften im digitalen Zeitalter, Wiesbaden.
Translated with www.DeepL.com/Translator (free version)